-------------------------------------





Sunday 1 DECEMBER 2019 - 11:00
Address : concert hall AMUZ, Kammenstraat 81 - 2000 Antwerpen

KOORCYCLUS A CAPELLA 2019-2020 DONNE DOMENICA : 'Als de ziele luistert'

Donne Domenica, female choir
Lien Keusters, harp
Patrick Van Looy, conductor

A spiritual program :
André Caplet (1878-1925) - Messe à trois voix: Kyrie - Gloria - Sanctus – Benedictus - Agnus Dei - O salutaris hostia
Gustav Holst (1874-1934) - Hymns from the Rig Veda
Maurice Duruflé (1902-1986) - Motet on Gregorian themes, Tota pulchra es
Joseph Ryelandt (1870-1965) - Als de ziele luistert - Herhaalt mij nu (Gezellelieder - Guido Gezelle died 90 years ago)
Lodewijk Mortelmans (1868-1952) - Blijdschap (Gezellelied)
Lodewijk De Vocht (1887-1977) - Memorare, O quam suavis est
Edward Elgar (1857-1934) - My love dwelt in a northern land
Jacques Ibert (1890-1962) - Le petit Zébu
Zoltán Kodály (1882-1967) - Ave Maria, Esti dal

Intermezzo harp

Donne Domenica was founded in 1992 in Geel by conductor Christiane De Maeyer. Over the years she has put the choir's repertoire for women's choir on the map during numerous performances in Flanders and the Netherlands. At international choral competitions in Switzerland and Spain, results were achieved that were always at the top of the score list.
In 2012 Patrick Van Looy took over the choir direction, and the singing capacity was reduced to twelve singers. However, the high quality was maintained and this is shown by a renewed classification in the category 'excellence' as Donne Domenica achieved in March 2013 at the 60th Choral Tournament of the Province of Antwerp and later also in 2017.
In recent years, the choir has also performed in many concerts in Eindhoven, Kasterlee, Geel and Tielen, and in the Carolus Borromeus and St. Paul's Church in Antwerp, in St. Bavo cathedral in Ghent and in the Cathedral St. Salvator in Hasselt. On 17 March 2019 the choir sang a jubilee concert in the church of Zammel, with music by Vic Nees, Kristiaan Van Ingelgem, Lodewijk De Vocht, Zoltán Kodály, Gustav Holst, Frans Schubert and Johannes Brahms.

Donne Domenica is an enthusiastic choir that sings about the pleasure of singing and music. Partly because of this, the choir dares to tackle almost all genres and to bring them to a successful conclusion. Although the repertoire for women's voices is rather limited, there are always gems to be found that can be strung into a varied, surprising and pleasant concert programme.

website : www.koorlink.be

-------------------------------------
Friday 19 NOVEMBER 2019 - 20:00
Address : Schouwburg Cultuurcentrum Zwaneberg, Cultuurplein 1 - 2220 Heist-op-den-Berg

Chopin, Mendelssohn and Grieg

Organisation : Voca Lisa vzw and CC Zwaneberg
Alexandra Cooreman, violin
Beatriz Sanchez Morales, flute
Herman Engels, conductor
Flemish Chamber Philharmonic

Program :
Frits Celis - Fantasia on some old flemish folk lieder
Ignace Paderewski - 'Unfinished suite' for strings
Felix Mendelssohn - Concerto for violin and orchestra in d-moll
Frederyk Chopin - Variaties on a theme of Rossini
Lodewijk Mortelmans - Door stille kloostergangen for string orchestra
August De Boeck - Gavotte for string orchestra
Janusz Bielecki – Poranek (Dawn)
Karl Doppler - Phantaisie pastorale Hongroise, flute and orchestra
Mieczyslaw Karlowicz - Serenade for strings Op.2 March Walz
Edvard Grieg - Holberg Suite: 1. Praeludium (Allegro vivace) - 5. Rigaudon (Allegro con brio)


Sunday 17 NOVEMBER 2019 - 11:00
Address : 't Kerkske, Kapelsestraat 182 - 2950 Kapellen

Aperitifconcert: Simon De Paepe & Fleur Strijbos


The young soprano Fleur Strijbos and pianist Simon De Paepe from Kapellen have formed a lied duo since September 2018. Central to the programme is the lied cycle 6 poems of Nikolaus Lenau (1802-1850) and the Requiem, Op.90 by Robert Schumann. They will also perform works by Lodewijk Mortelmans, Franz Schubert, Marinus de Jong, Anton Webern, Edvard Grieg and Johannes Brahms.

website : www.voixcelestes.be - tickets - www.cckapellen.be - www.uitinvlaanderen.be

Friday 15 NOVEMBER 2019 - 20:00
Address : Sint Augustinuskerk, Stasegemdorp - 8530 Harelbeke

Concert for piano and Lied

Organisation CC het SPOOR Harelbeke in collaboration with Peter Benoitfonds
Liesbeth Devos, soprano
Jozef De Beenhouwer, piano

Program :
Peter Benoit (1834-1901)
- L'Inquiétude (Romance sans paroles), Op.6 (1859?)
- Fantasie nr.3, Op.18 (1860)
Two Lieder from 'De Liefde in het Leven' (Emmanuel Hiel) (ca 1870) :
- Heeft het Roosje milde Geuren
- Droom van Lust en Lijden
Uit 'Vertelsels en Balladen', Op.34 (1861) :
- Ballade: Legende van den Leiegeest
August De Boeck (1865-1937)
- C'est en toi, bien-aimé (Charles van Lerberghe) (december 1917)
Joseph Ryelandt (1870-1965)
- Weemoed (Guido Gezelle) Op.38 Nr.5 (1904)
- 'k En hoore U nog niet (Guido Gezelle), Op.46 Nr.1 (1907)
- Ego Flos (Guido Gezelle), Op.77 (1920)
- Nocturne Nr.2, Op.90 (1927)
- Clair de lune (Paul Verlaine), Op.19 (1897)
- Ariette oubliée (Paul Verlaine), Op.88 Nr.4 (1927)
- Pays de rêve (Fernand Severin), Op.88 Nr.5 (1927)
Marinus De Jong (1891-1984)
Uit 'Zes Preluden', Op.5 (1921) :
- Nr.6 Praeludium (Religiosum) (Ad te levavi animam meam)
- 't Is Stille (Guido Gezelle) , Op.12 Nr.1 (1924)
- Nocturno 'Schemeravond op Esschenhof', Op.53 (1945)
Lodewijk Mortelmans (1868-1952)
- Hoe schoon de Morgendauw (Guido Gezelle) (1900)
- Als de Ziele luistert (Guido Gezelle) (1913)
- Meidag (Guido Gezelle) (1913)
- Het Wielewaalt en Leeuwerkt (1921)
- Lied van Mignon ('Kennst du das Land') (J. W. von Goethe) (1906)

website : www.cchetspoor.be

-------------------------------------
Wednesday 25 SEPTEMBER 2019 - 14:30-16:00
Address : Museum Vleeshuis / Klank van de Stad, Vleeshouwersstraat 38 - 2000 Antwerpen

Vocal music from the circle of Albert de Vleeshouwer


Organisation : Museum Vleeshuis, SVM, Labo XIX & XX (Koninklijk Conservatorium Antwerpen)
Pauline Lebbe, soprano
Peter Jeurissen, piano

Program :
- Jan Block (1851-1912)
De spinster, Moederlied (Berceuse), Als de winter voorbij is, Onder de linde, Lied van Reinilde, Ik ben de bruid der eeuwige zee
- Albert de Vleeshouwer (1863-1913)
Afscheid, De vogel kweelde, Ik minde nog niet, Van 't vogelnestje, Hoe keizer Karel zong, Alleen, In 't bosch
- Gerrit A. Wagner (1862-1892)
Hafisa
- Lodewijk Mortelmans (1868-1952)
De bloemen en de sterren, Hoe schoon de morgendauw, 't Avondt, Als de ziele luistert, Lied van Mignon

website : www.museumvleeshuis.be

Friday 30 AUGUST 2018
RADIO KLARA
Program : GOLDBERG (23:00 - 07:00)
Lodewijk Mortelmans - Lyrische pastorale for horn and orchestra [07:38]
Diechje Minne, horn - Herman Engels, conductor - Filharmonie Hradec Kralové
PHAEDRA 92096

Tuesday 27 AUGUST 2018
RADIO KLARA
Program : GOLDBERG (23:00 - 07:00)
Lodewijk Mortelmans - Morgenstemming [12:35]
Martyn Brabbins, conductor - DeFilharmonie
HYPERION 67766
Saturday 24 AUGUST 2019
RADIO KLARA
Program : DE TOVERBERG (18:00 - 20:00)
Lodewijk Mortelmans - Varied Menuet for piano [05:18]
Jozef de Beenhouwer, piano
PHAEDRA 92015

Thursday 15 AUGUST 2019
RADIO KLARA
Program : ESPRESSO (07:00 - 10:00)
Lodewijk Mortelmans - Saïdjah's Lied [04:59]
Peter Vanhove, piano
PAVANE 7463

Thursday 8 AUGUST 2019
RADIO KLARA
Program : ESPRESSO (07:00 - 10:00)
Lodewijk Mortelmans - Romanza for violin and piano [05:32]
Milan Pala, viool - Herman Engels, conductor - Filharmonie Hradec Kralové
PHAEDRA 92096

Sunday 4 AUGUST 2019
RADIO KLARA
Program : GOLDBERG (23:00 - 07:00)
Lodewijk Mortelmans - 3. Sirenengespeel en gezang from Homeric Symphony [11:37]
Martyn Brabbins, conductor - DeFilharmonie
HYPERION 67766

Saturday 3 AUGUST 2019
RADIO KLARA
Program : KLASSIEK LEEFT (15:00 - 18:00)
Lodewijk Mortelmans - 3. Sirenengespeel en gezang from Homeric Symphony [11:37]
Martyn Brabbins, conductor - DeFilharmonie
HYPERION 67766

-------------------------------------
Sunday 28 JULY 2019
RADIO KLARA
Program : GOLDBERG (23:00 - 07:00)
Lodewijk Mortelmans - 2 Lieder : Als de Ziele luistert - 't Groeit een Blomken [05:55]
Hendrickje Van Kerckhove, soprano - Christel Kessels, piano
SENZANOME 5411499 92022

Wednesday 24 JULY 2019
RADIO KLARA
Program : GOLDBERG (23:00 - 07:00)
Lodewijk Mortelmans - 3. Sirenengespeel en gezang from Homeric Symphony [11:37]
Martyn Brabbins, conductor - DeFilharmonie
HYPERION 67766

Tuesday 16 JULY 2019
RADIO KLARA
Program : KLASSIEK LEEFT (10:00 - 13:00)
Lodewijk Mortelmans - Het wielewaalt en leeuwerkt [04:59]
Jozef de Beenhouwer, piano
PHAEDRA 92015

Monday 15 JULY 2019
RADIO KLARA
Program : DE ZOMER VAN KLARA (13:00 - 17:00)
Lodewijk Mortelmans - Als de Ziele luistert [03:30]
Liesbeth Devos, soprano - Dirk Vermeulen, conductor - Die Württembergische Philharmonie Reutlingen
PHAEDRA 92097

Thursday 11 JULY 2019
RADIO KLARA
Program : ESPRESSO (07:00 - 10:00)
Lodewijk Mortelmans - Oh mocht ik [02:31]
Hendrickje Van Kerckhove, soprano - Christel Kessels, piano
SENZANOME 5411499 92022


RADIO KLARA
Program : ESPRESSO (07:00 - 10:00)
Lodewijk Mortelmans - 2 Lieder : Als de Ziele luistert - 't Groeit een Blomken [05:55]
Hendrickje Van Kerckhove, soprano - Christel Kessels, piano
SENZANOME 5411499 92022


RADIO KLARA
Program : KLASSIEK LEEFT (10:00 - 13:00)
Lodewijk Mortelmans - Saïdjah's Lied [04:59]
Peter Vanhove, piano
PAVANE 7463

Thursday 13 JULY 2019
RADIO KLARA
Program : DE ZOMER VAN KLARA (13:00 - 17:00)
Lodewijk Mortelmans - Varied Menuet for piano [05:18]
Jozef de Beenhouwer, piano
PHAEDRA 92015

Wednesday 3 JULY 2019
RADIO KLARA
Program : GOLDBERG (00:00 - 07:00)
Lodewijk Mortelmans - 3. Sirenengespeel en gezang from Homeric Symphony [11:37]
Martyn Brabbins, conductor - DeFilharmonie
HYPERION 67766



-------------------------------------
Saturday 29 JUNE 2019
RADIO KLARA
Program : GOLDBERG (23:00 - 07:00)
Lodewijk Mortelmans - Mythe der Lente [10:41]
Martyn Brabbins, conductor - DeFilharmonie
HYPERION 67766

Monday 14 JUNE 2019
RADIO KLARA
Program : GOLDBERG (00:00 - 07:00)
Lodewijk Mortelmans - Romanza for violine and orchestra [05:32]
Milan Pala, violine - Herman Engels, conductor - Filharmonie Hradec Kralové
PHAEDRA 92096

Thursday 20 JUNE 2019
RADIO KLARA
Program : KLARA SERVEERT (12:00 - 14:00)
Lodewijk Mortelmans - Het wielewaalt en leeuwerkt [05:29]
Peter Vanhove, piano
PAVANE ADW-7547



Thursday 20 JUNE 2019 - 20:00
Address : Onze-Lieve-Vrouwekathedraal ,Groenplaats 21 - 2000 Antwerpen
Cathedral Concert


Organisation : Antwerp Symphony Orchestra
Antwerp Symphony Orchestra
Eduardo Strausser, conductor


Program :
- Lodewijk Mortelmans : Exaltation (Elegie nr. 2)
- Anton Bruckner : Symfonie nr. 4 in Es

Horn call, singing birds, mysterious forests, medieval hunting scenes. In composing his Fourth Symphony, Anton Bruckner let his romantic imagination run free. If one symphony embodies the 'romantic' longing for a pre-modern, untouched natural idyll, it is this one. Under the vault of the Antwerp Cathedral, Eduardo Strausser places Bruckner's sweetest, most melodious symphony on the pupiter. One thing is certain: with Strausser at the helm, the Fourth Symphony sounds like a soothing listening experience.

website : Antwerp Symphony Orchestra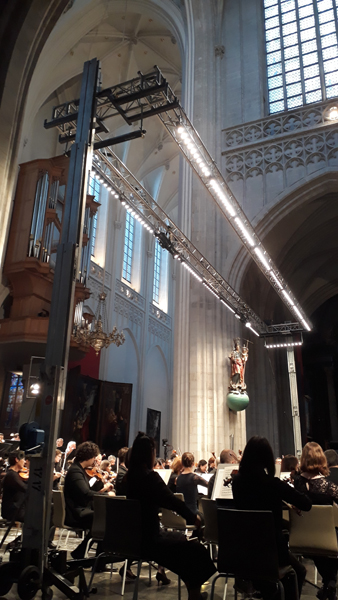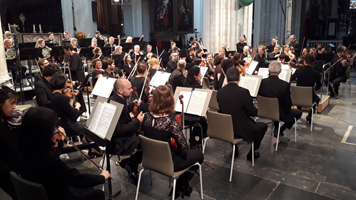 Saturday 15 JUNE 2019
RADIO KLARA
Program : GOLDBERG (00:00 - 07:00)
Lodewijk Mortelmans - Mignon Lied 'Kennst du das Land' [07:40]
Nina Stemme, soprano - Zsolt Hamar, conductor - Vlaams Radio Orkest
PHAEDRA 92033

Tuesday 11 JUNE 2019
RADIO KLARA
Program : KLARA SERVEERT (12:00 - 14:00)
Lodewijk Mortelmans - Intermezzo in A [03:29]
Peter Vanhove, piano
PAVANE 7463

Sunday 9 JUNE 2019
RADIO KLARA
Program : GOLDBERG (00:00 - 07:00)
Lodewijk Mortelmans - Saïdjah's Lied [04:59]
Peter Vanhove, piano
PAVANE 7463

Saturday 5 JUNE 2019
WQXR NEW-YORK Public Radio
Program :
Lodewijk Mortelmans - Mythe der Lente - Symphonic Poem [10:28]
Silveer Van den Broeck, conductor - VRT Philharmonic Orchestra
MARCO POLO 8.225101

Thursday 6 JUNE 2019 - 19:00
Address : Concert Hall, Museum Überlingen, Krummebergstraße 30 - 88662 Überlingen Germany
Bodenseefestival : Aufbrüche (Departures) - Piano recital

Hanna Bachmann, piano

Program :
- Lodewijk Mortelmans : Jeugd, Memories
- Ludwig van Beethoven : Sonate in c-Moll Op.10/1
- Peter Benoit : Suite Op.34 Nr. 3
- Sergej Prokofiev : Sonate in A-Dur Op.82

Two unjustly forgotten Belgian composers of late romanticism are to be discovered: Peter Benoit, revered by his fellow countrymen as the "father of Flemish music", and his pupil Lodewijk Mortelmans wrote incredibly atmospheric piano miniatures. The young Austrian pianist Hanna Bachmann combines these rarities with repertoire classics: first Beethoven, whose early Sonata op. 10 No. 1 seemed to his audience to be ingenious, but also a little bizarre. Then Prokofiev with his stunningly virtuosic Sonata op. 82. It was allegedly inspired by a musical novel by Romain Rolland, in which Beethoven's piano sonatas play an important role.

website : www.bodenseefestival.de
website : www.museum-Überlingen.de
website : www.hannabachmann.com/en

Saturday 1 JUNE 2019 - 14:00 - 16:00

Muzikale grafzerken - Musical gravestones

Organisation : Amarant vzw

There's music in the Schoonselhof, and much more than you think. Did you know that many musicians and composers have found their final resting place at this Antwerp necropolis? Especially for the Antwerp Cemetery Week, music historian David Vergauwen highlights the incredible musical richness that lies hidden here in a unique tour, with special attention to the heritage of the Flemish composers, including Peter Benoit, Flor Alpaerts and Lodewijk Mortelmans.

Attention will also be paid to talented singers and musicians from the world of classical music, opera, folk and many other genres. Besides the symbolism of their graves and the special stories about their musical existence, there will also be pieces of music listened to, together with the guide. Dr. Tamara Ingels (chairman vzw Grafzerkje) will give a historical introduction about the meaning of Schoonselhof cemetery. This tour is part of the European Cemetery Week and takes place in collaboration with vzw Grafzerkje and Amarant vzw.

website : Open Monumenten
-------------------------------------
Friday 31 MAI 2019
RADIO KLARA
Program : GOLDBERG (00:00 - 06:00)
Lodewijk Mortelmans - Lyrical Pastorale, for horn and orchestra [07:38]
Diechje Minne, horn - Herman Engels, conductor - Filharmonie Hradec Kralové
PHAEDRA 92096

Wednesday 29 MAI 2019
RADIO KLARA
Program : GOLDBERG (00:00 - 06:00)
Lodewijk Mortelmans - Het wielewaalt en leeuwerkt [05:29]
Peter Vanhove, piano
PAVANE ADW-7547

Monday 27 MAI 2019
RADIO KLARA
Program : KLARA SERVEERT (12:00 - 14:00)
Lodewijk Mortelmans - Saïdjah's Lied [04:59]
Peter Vanhove, piano
PAVANE 7463

Sunday 26 MAI 2019
RADIO KLARA
Program : ESPRESSO (07:00 - 10:00)
Lodewijk Mortelmans - Hoe schoon de morgendauw [01:55]
Jozef de Beenhouwer, piano - Werner van Mechelen, bariton
PHAEDRA 92019

Samedi 25 MAI 2019
RADIO KLARA
Programme : ESPRESSO (07:00 - 10:00)
Lodewijk Mortelmans - Lyrical Pastorale, for horn and orchestra [07:38]
Diechje Minne, horn - Herman Engels, conductor - Filharmonie Hradec Kralové
PHAEDRA 92096

Monday 13 MAI 2019
RADIO KLARA
Program : ESPRESSO (06:00 - 09:00)
Lodewijk Mortelmans - Varied Menuet for piano [05:18]
Jozef de Beenhouwer, piano
PHAEDRA 92015

Saturday & Sunday 11 - 12 MAY 2019
Address : Privat Museum House Mortelmans - Boterhamstraat 1 - 2000 Antwerp
Open door weekend - Museum House Mortelmans

Everybody is welcome, and the entrance is free
Doors : 11:00 - 17:30











RADIO KLARA
KLASSIEK LEEFT (09:00 - 12:00)
A retrospective on the unsurpassed Mortelmans weekend is scheduled for Friday 17 May, around 10:20
Bart Stouten, host
Saturday 11 MAI 2019
RADIO KLARA
Program : GOLDBERG (00:00 - 07:00)
Lodewijk Mortelmans - Lyrical poem for small orchestra [11:40]
Bjarte Engeset, conductor - Vlaams Radio Orkest
MMP 029

Wednesday 8 MAI 2019
RADIO KLARA
Program : ESPRESSO (06:00 - 09:00)
Lodewijk Mortelmans - Het wielewaalt en leeuwerkt [04:59]
Jozef de Beenhouwer, piano
PHAEDRA 92015

Sunday 5 MAI 2019
WQXR NEW-YORK Public Radio
Program :
Lodewijk Mortelmans - Mythe der Lente - Symphonic Poem [10:28]
Silveer Van den Broeck, conductor - VRT Philharmonic Orchestra
MARCO POLO 8.225101

-------------------------------------
Sunday 28 APRIL 2019 - 15:00
Address : Sint-Jacobuskerk, Kerkstraat 4 - 2950 Kapellen
"Voix Célestes" stands for heavenly voices

The Women's choir today : Annelies Jonkers, Bie Busselen, Greet Tubex, Helena De Paepe, Karen Wuyts, Lisa Verschueren, Marleen Vervloet, Nena Bernard, Anne-Marie De Blieck, Els Gonnissen, Hedwig Vigoureux, Inge Callens, Katrien Meeussen, Lynn De Clercq, Michaela Steger
The Chamberorchestra : Annelies Focquaert, harmonium - Eleni Tsiotsiou, viola - Lotte Stuyck, viola - Marjolein Vernimmen, harp - Michel Labruyere, double bas - Ophélie Sánchez, violin - Ruth Bouckaert, violin - Raphael Meulemans, violincello - Shuya Tanaka, violincello - Tanguy Aerts, horn.

Simon De Paepe, conductor
Margareta Köllner, soprano
Tom Van Bogaert, baritone

Program :
Noah Senden - Bounds of the Unthinkable
Gabriel Fauré - Le Ruisseau
Hector Berlioz - La mort d'Ophélie
Carsten Braun - Magnificat
August De Boeck - O beata mater
August De Boeck - Het kerksken van te lande [L'église paysanne]
Lodewijk Mortelmans - Ave Verum
Gabriel Fauré - Requiem : Introit & Kyrie, Offertorium, Scanctus, Pie Jesu, Agnus Dei, Libera me, In Paradisum

website : www.voixcelestes.be

The Mortelmans Foundation would like to congratulate Voix Célestes and their conductor Simon De Paepe with their wonderful performance.

Friday 26 APRIL 2019 - 16:30
Address : MUHKA (Museum of Modern Art), Leuvenstraat 32 - 2000 Antwerpen
Course from 26-04-2019 till 28-06-2019



Belgian music of the 19th century
(1830-1920)


Between adoration and oblivion

The Belgians should be just about the least proud people in Europe when it comes to their own classical musical heritage. Names of great composers from Dutch music history are often only known because squares or streets have been named after them, or because they have a statue here or there. And even if we know names like Fétis, Gevaert or Gilson, we have to admit that there is little music that spontaneously comes to mind. Are we therefore not obliged to take a closer look at our own music history?

We are already taking up the challenge!

Belgium was able to occupy a unique place in European musical life: squeezed between France and the German-speaking world, its composers processed influences from both musical cultures into a unique mixture that might even be called "Belgian". In this course we will discuss national music, from the birth of Belgium in 1830 until the end of the First World War and its immediate aftermath. We sketch the portraits of a number of composers against the background of Belgian history and look for the cultural-historical value of the musical heritage that we can call our own. Along the way we get to know the oeuvre of composers such as: Guillaume Lekeu, François Fétis, François Servais, Henry Vieuxtemps, Joseph Ryelandt, Joseph Jongen, Adolphe Biarent, August De Boeck, Paul Gilson, César Franck, Lodewijk Mortelmans and of course not to forget: Peter Benoit.


David Vergauwen, teacher
website : www.amarant.be
website : www.symfonieorkest.be
Tuesday 23 APRIL 2019
RADIO KLARA
Program : GOLDBERG (00:00 - 06:00)
Lodewijk Mortelmans - 2 Lieder : Als de Ziele luistert - 't Groeit een Blomken [05:55]
Hendrickje Van Kerckhove, soprano - Christel Kessels, piano
SENZANOME 5411499 92022

Saturday 20 APRIL 2019
RADIO KLARA
Program : ESPRESSO (07:00 - 10:00)
Lodewijk Mortelmans - Intermezzo in A major [02:50]
Lode Backx, piano
LINK : BRT recording for piano : MGT 58.258

The morning radio received an e-mail from 17-year-old Jens Backx, who read an article about pianist Lode Backx in a book about the "History of the Family Backx". He asked for more information about him and possible recordings. The VRT archive contains more than 100 recordings of Lode Backx. A great opportunity to invite Jens and bring that world-famous but forgotten Flemish pianist Lode Backx to the attention once again.

Thursday 18 APRIL 2019
RADIO KLARA
Program : GOLDBERG (00:00 - 06:00)
Lodewijk Mortelmans - Mignon Lied 'Kennst du das Land' [07:40]
Nina Stemme, soprano - Zsolt Hamar, conductor - Vlaams Radio Orkest
PHAEDRA 92033

Wednesday 17 APRIL 2019
RADIO KLARA
Program : GOLDBERG (00:00 - 06:00)
Lodewijk Mortelmans - Saïdjah's Lied [04:59]
Peter Vanhove, piano
PAVANE 7463

Sunday 15 APRIL 2019
WQXR NEW-YORK Public Radio
Program :
Lodewijk Mortelmans - Elegie II. Hartverheffing (Exultation) [07:34]
Silveer Van den Broeck, conductor - VRT Philharmonic Orchestra
MARCO POLO 8.225100

Sunday 14 APRIL 2019
RADIO KLARA
Program : GOLDBERG (00:00 - 07:00)
Lodewijk Mortelmans - Varied Minuet for piano [05:18]
Jozef de Beenhouwer, piano
PHAEDRA 92015

Friday 12 APRIL 2019
RADIO KLARA
Program : KLARA SERVEERT (12:00 - 14:00)
Lodewijk Mortelmans - Lyrical poem for small orchestra [11:40]
Bjarte Engeset, conductor - Vlaams Radio Orkest
MMP 029

Wednesday 10 APRIL 2019 - 12:30-13:20
Address : Muziekinstrumentenmuseum (MIM), Hofberg 2 - 1000 Brussels
Pianorecital Middagconcerten Brussel


Jozef De Beenhouwer, piano
Program :
Johann Sebastian Bach (1685-1750)
Partita Nr.1 in Bes (Si bémol majeur), BWV 825 (Leipzig, 1826)
• Praeludium
• Allemande
• Corrente
• Menuet I & II
• Giga
Clara Schumann (1819-1896)
• Variationen über ein Thema von Robert Schumann, Op.20 - (Düsseldorf, Mai-June 1853)
Lodewijk Mortelmans (1868-1952)
• Het Wielewaalt en Leeuwerkt [Like a singing Bird] (1921)
Frédéric Chopin (1810-1849)
• Nocturne in B (Si majeur), Op.62 Nr.1 (ca 1845)
• Barcarolle, Op.60 (1845-46)

website : Middagconcerten

Tuesday 9 APRIL 2019
RADIO KLARA
Program : KLARA LIVE (20:00 - 22:00)
Lodewijk Mortelmans - Lyrical Pastorale [07:50]
Ivo Hadermann, Horn - Geert Callaert, piano
AIROPHONIC 541149980132

Saturday 6 APRIL 2019
RADIO KLARA
Program : GOLDBERG (00:00 - 07:00)
Lodewijk Mortelmans - Mythe der Lente - Symphonic Poem [10:41]
Martyn Brabbins, conductor - DeFilharmonie
HYPERION 67766

Thursday 4 APRIL 2019
RADIO KLARA
Program : GOLDBERG (00:00 - 06:00)
Lodewijk Mortelmans - Lyrical poem for small orchestra [11:40]
Bjarte Engeset, conductor - Vlaams Radio Orkest
MMP 029

Monday 01 APRIL 2019


The 'Mortelmans Foundation'
is sad to annouce the passing away of our dear family member,
grandson of Lodewijk Mortelmans and
former founding board member of our foundation.


HENK SCHILTZ


° 15.12.1927 Ekeren
† 01.04.2019 Klein-Vorst Laakdal

From this life has passed away
to awaken in eternal life


The families Schiltz, Cuypers, Mortelmans, Cuyvers


-------------------------------------
Thursday 28 MARCH 2019
RADIO KLARA
Program : GOLDBERG (00:00 - 06:00)
Lodewijk Mortelmans - Het wielewaalt en leeuwerkt [04:59]
Jozef de Beenhouwer, piano
PHAEDRA 92015

Sunday 17 MARCH 2019
RADIO KLARA
Program : WALDEN (11:00 - 14:00)
Lodewijk Mortelmans - Lyrical Pastorale, for horn and orchestra [07:38]
Diechje Minne, horn - Herman Engels, conductor - Filharmonie Hradec Kralové
PHAEDRA 92096

Tuesday 12 MARCH 2019 - 20:00-22:00
Address : Museum Vleeshuis / Klank van de Stad, Vleeshouwersstraat 38 - 2000 Antwerpen


Peter Benoit ommemoration


Organisation : Peter Benoitfonds
The Peter Benoit Fund was established to preserve, make available, publish and promote the work of Peter Benoit. The fund is located in the library of the Royal Conservatory of Antwerp.

This year, the annual Peter Benoit Commemoration of the Peter Benoit Fund is entirely dedicated to pianist Jozef De Beenhouwer.
On 12 March 2019 he receives the Peter Benoit Prize for his many and exceptional qualities as a performer, editor and researcher and the fact that from the very beginning of his career he has paid special attention to the keyboard and chamber music of Flemish composers. On that evening Jozef De Beenhouwer will present a varied programme with soprano Liesbeth Devos and the Spiegel String Quartet, with works by Peter Benoit, Marinus De Jong, August De Boeck, Lodewijk Mortelmans and Joseph Ryelandt. The concert is organized with the support of the Friends of the Antwerp Conservatory.

Program :
Marinus De Jong (1891-1984)
• From 'Zes Preluden, opus 5 (1921) - nr.6 Praeludium (Religiosum) (Ad te levavi animam meam)
• 't Is Stille (Guido Gezelle) , Op.12 nr.1 (1924)
• Nocturno. 'Schemeravond op Esschenhof', Op.53 (1945)
August De Boeck (1865-1937)
• C'est en toi, bien-aimé (Charles van Lerberghe) (dec.1917)
Lodewijk Mortelmans (1868-1952)
• Hoe schoon de Morgendauw (Guido Gezelle) (1900)
• Als de Ziele luistert (Guido Gezelle) (1913)
• Meidag (Guido Gezelle) (1913)
• Het Wielewaalt en Leeuwerkt (1921)
• Lied van Mignon ('Kennst du das Land') (J. W. von Goethe) (1906)

Peter Benoit (1834-1901)
• Fantasie nr.3, Op.18 (1860)
• From 'Vertelsels en Balladen', Op.34 (1861) - Ballade: Legende van den Leiegeest
Joseph Ryelandt (1870-1965)
• 'k En hoore U nog niet (Guido Gezelle), Op.46 nr.1 (1907)
• Ego Flos (Guido Gezelle), Op.77 (1920)
• Pianokwintet nr.1 in a, Op.32 (1901)

website : www.ap-arts.be
website : tickets.desingel.be
website & info : svm


Thursday 7 MARCH 2019
RADIO KLARA
Program : ESPRESSO (06:00 - 09:00)
Lodewijk Mortelmans - Hoe schoon de Morgendauw - [02:03]
Hendrickje Van Kerckhove, soprano - Christel Kessels, piano
SENZA NOME 5411499-92022


RADIO KLARA
Program : ESPRESSO (06:00 - 09:00)
Lodewijk Mortelmans - Het wielewaalt en leeuwerkt [05:29]
Peter Vanhove, piano
PAVANE ADW-7547

-------------------------------------
Wednesday 27 FEBRUARY 2019
RADIO KLARA
Program : GOLDBERG (00:00 - 06:00)
Lodewijk Mortelmans - Elegie I - In Memoriam - [07:41]
Fernand Terby, conductor - BRTN Filharmonisch Orkest
PHAEDRA 92033

Sunday 17 FEBRUARY 2019
WQXR NEW-YORK Public Radio
Program :
Lodewijk Mortelmans - Elegie II. Hartverheffing (Exultation) [07:34]
Silveer Van den Broeck, conductor - VRT Philharmonic Orchestra
MARCO POLO 8.225100

Thursday 14 FEBRUARY 2019
RADIO KLARA
Program : GOLDBERG (00:00 - 06:00)
Lodewijk Mortelmans - Romanza for violine and orchestra [05:32]
Milan Pala, violine - Herman Engels, conductor - Filharmonie Hradec Kralové
PHAEDRA 92096

Wednesday 13 FEBRUARY 2019
WQXR NEW-YORK Public Radio
Program :
Lodewijk Mortelmans - Mythe der Lente - Symphonic Poem [10:28]
Silveer Van den Broeck, conductor - VRT Philharmonic Orchestra
MARCO POLO 8.225101

-------------------------------------
Saturday 26 JANUARY 2019
RADIO KLARA
Program : KLARA IN DE SINGEL (14:00 - 17:00)
Lodewijk Mortelmans - Lyrical Pastorale, for horn and orchestra [07:38]
Diechje Minne, horn - Herman Engels, conductor - Filharmonie Hradec Kralové
PHAEDRA 92096

Friday 25 JANUARY 2019
RADIO KLARA
Program : GOLDBERG (00:00 - 06:00)
Lodewijk Mortelmans - Lyrical Pastorale, for horn and orchestra [07:38]
Diechje Minne, horn - Herman Engels, conductor - Filharmonie Hradec Kralové
PHAEDRA 92096

Monday 21 JANUARY 2019
RADIO KLARA
Program : GOLDBERG (00:00 - 06:00)
Lodewijk Mortelmans - Het wielewaalt en leeuwerkt [05:29]
Peter Vanhove, piano
PAVANE ADW-7547

Wednesday 16 JANUARY 2019
RADIO KLARA
Program : GOLDBERG (00:00 - 06:00)
Lodewijk Mortelmans - Lyrical Pastorale [07:50]
Ivo Hadermann, Horn - Geert Callaert, piano
AIROPHONIC 541149980132

Sunday 13 JANUARY 2019 - 11:00-12:00
Address : Kraakhuis Muziekcentrum De Bijloke, Godhuizenlaan 2 - 9000 Gent
Recital Duo Adelfoi - Young Masters #3

Organisation : Florestan Bataillie and Ludovic Bataillie
Florestan Bataillie, piano
Florestan Bataillie, violin

Info :
The Duo Adelfoi plays their debut here in De Bijloke. This with a festive programme around masterpieces by Schubert and Grieg. They will also dive into the Belgian repertoire and perform the beautiful Romanza by Lodewijk Mortelmans and finally two of their own compositions.

Program :
Franz Schubert (1979-1828)
• Sonatine in D, Op.137 - allegro molto - Andante -Allegro vivace
Lodewijk Mortelmans (1868-1952)
• Romanza
Edvard Grieg (1843-1907)
• Vioolsonate in c, Op.45 - Allegro molto e appasionata - Allegro espressivo alla Romanza - Allegro animato
Florestan Bataillie (1992) - Belgian blues