--------------------------------------
Sunday 13 DECEMBER 2020 - 11:00
Adress : OC De Lange Munte, Beeklaan 81 - 8500 Kortrijk
Belgian Pearls

Kamerorkest Musamis, chamber orchestra
Ann Pareyn, conductor






Program :
Lodewijk Mortelmans - Lyrisch Gedicht for small orchestra
André-Ernest Grétry - Ouverture from La Caravane du Caire
Joseph Jongen - Fête Populaire from Tableaux Pittoresques
Frédéric Devreese - Valse Sacrée
Marc Matthys - Sad Waltz
Piet Swerts - Martenizza (Festival Ouverture) for chamber orchestra
Nicolas de Cock - Suite voor strijkorkest

website : Musamis

-------------------------------------
Sunday 22 & Tuesday 24 NOVEMBER 2020
Address: DE MUNT / LA MONNAIE, Leopoldstreet 23 - 1000 Brussels


Organisation : La Monnaie

The performances are conducted by chief conductor Alain Altinoglu who is particularly enthusiastic about Mortelmans' score.


100 years after its creation, La Monnaie presents two concerts of Lodewijk Mortelmans' only opera The children of the sea.

Framework for young musicians, by Jan Dewilde, SVM

Organisation :
Studiecentrum voor Vlaamse Muziek vzw in collaboration with Labo XIX&XX (Koninklijk Conservatorium Antwerpen), the Mortelmans Foundation and La Monnae

All information : Lodewijk | Opera

website : de munt|opera - svm

Friday 13 NOVEMBER 2020 - 12:30
Address : DE MUNT | LA MONNAIE, Leopoldstraat 23 - 1000 Brussel


Organisation : De Munt

Wind Quintet of de Munt




Programm :
Lodewijk Mortelmans
Lyrische pastorale, for horn and piano (1910)
Lodewijk Mortelmans
Eenzame herder (1920)
Joseph Jongen
Rhapsodie, Op.70 (1922)

website : De Munt | La Monnaie
-------------------------------------
Friday 1 MAY till Sunday 10 MAY 2020
Address : Saint Bavo Cathedral, Sint-Baafsplein - 9000 Ghent
17-03-2020: The Floralies of Ghent have been postponed to April/May 2021. To our regret, the exhibition Mortelmans-Robie will not take place.

Floraliën 2020 - Frans Mortelmans - Jean Robie
Exhibition in the Saint Bavo Cathedral in Ghent

Organisation : Koninklijke Maatschappij voor Landbouw- en Plantkunde van Gent

From 1 May to 10 May 2020, the city of Ghent will be the setting for ten days for the most beautiful creations of
national and international top florists, ornamental growers, garden architects and artists,
complemented by an exhibition on our 'Flower Painters'.


The theme of the Floralies is 'My Paradise, a World Garden'. This refers not only to the emotional role of green in people's lives, but also to the Lamb of God by the Van Eyck brothers. After all, the Floralies are also organizing their 2020 exhibition at the Van Eyck year.

Frans Mortelmans, virtuoos Bloemenschilder

The rose has many meanings, which all have to do with a clean and sinless life. It indicates the beauty, the love and the transience of life.

Already in the 5th century B.C. the Greek lyre poet Anacreon sang:
The rose is the perfume of the Gods
The joy of man
It adorns the grace of blossoming love
It is the favorite flower of Venus




Jean-Baptiste Robie, l'Amant des roses

In order to associate the flower and his presentation, we are working here together with the Sint Dorothea foundation, the Foundation of the Rose, the Mortelmans foundation and the Fondation Jean Robie. Bringing together the actual flower and its painted version will give rise to an art of colour and taste.

Two great painters, the antwerp Frans Mortelmans and Jean Robie from Brussels, specialists in flower painting, are brought together here for the first time.


You will be able to admire a selection of masterpieces by both artists, surrounded by a beautiful floral decor, set up in the ambulatory and the high choir of St Bavo's Cathedral, around the mausoleum of Bishop Antoon Triest (1654).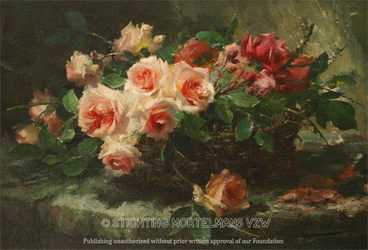 Organisation and collaboration :
- De Gentse Floraliën
- Sint Dorothea (founded in 1648
and co-founder of the Gentse Floraliën)
- Koninklijke Nationale Maatschappij
"De vrienden van de roos"
- Sint-Baafs Kathedraal Gent
- Casteels Rozen Putte
- Tuinbouwschool Melle
- Fondation Jean Robie
- Stichting Mortelmans
- Ecole d'Aquarelle Namuroise



website :
www.gentsefloralien.be - www.floralien2020.be - www.fransmortelmans.be - Fondation Jean Robie.org

-------------------------------------
Friday 3 APRIL 2020
RADIO KLARA
Program : KLARA SERVEERT (12:00 - 14:00)
Lodewijk Mortelmans - Saïdjah's Lied [04:59]
Peter Vanhove, piano
PAVANE 7463

-------------------------------------
Sunday 29 MARCH 2020
Jelle Tassyns, composer
Joyce Kuipers, cello

Lodewijk Mortelmans - Als de Ziele luistert

Composer Jelle Tassyns arranged the beautiful Mortelmans song 'Als de Ziele luistert' for nine celli.
His wife Joyce Kuypers played the nine parts and Jelle pulled out his box of tricks and filmed the whole thing in the Jesuit church in Lier.

To view and listen for those who have Facebook or Youtube.



Tuesday 24 MARCH 2020
RADIO KLARA
Program : KLARA CONTINUO (00:00 - 06:00)
Lodewijk Mortelmans - Het wielewaalt en leeuwerkt [05:29]
Peter Vanhove, piano
PAVANE ADW 7547

Sunday 22 MARCH 2020
RADIO KLARA
Program : FIDELIO (14:00 - 18:00)
Lodewijk Mortelmans - Opera' The Children of the Sea | Ballade van de Zee [03:30]
Peter Gijsbertsen, tenor - Werner Van Mechelen, bas-baritone - Liesbeth Devos, soprano
Dirk Vermeulen, conductor - Die Württembergische Philharmonie Reutlingen
PHAEDRA 92097
Friday 20 MARCH 2020
RADIO KLARA
Program : KLARA CONTINUO (00:00 - 06:00)
Lodewijk Mortelmans - Lyrical poem for small orchestra [11:40]
Bjarte Engeset, conductor - Vlaams Radio Orkest
MMP 029

-------------------------------------
Tuesday 18 FEBRUARY 2020
RADIO KLARA
Program : KLARA CONTINUO (00:00 - 06:00)
Lodewijk Mortelmans - Saïdjah's Lied [04:59]
Peter Vanhove, piano
PAVANE 7463

Saturday 8 FEBRUARY 2020
RADIO KLARA
Program : KLARA CONTINUO (00:00 - 07:00)
Lodewijk Mortelmans - Lyrical Pastorale [07:50]
Ivo Hadermann, Horn - Geert Callaert, piano
AIROPHONIC 541149980132

Friday 7 FEBRUARY 2020
RADIO KLARA
Program : KLASSIEK LEEFT (09:00 - 12:00)
Lodewijk Mortelmans - Oh mocht ik [02:31]
Hendrickje Van Kerckhove, soprano - Christel Kessels, piano
SENZANOME 5411499 92022

RADIO KLARA
Program : KLASSIEK LEEFT (09:00 - 12:00)
Lodewijk Mortelmans - Intermezzo in A [03:29]
Peter Vanhove, piano
PAVANE 7463

Saturday 1 FEBRUARY 2020
RADIO KLARA
Program : KLARA IN DE SINGEL (13:00 - 17:00)
Lodewijk Mortelmans - Lyrische pastorale for horn and orchestra [07:38]
Diechje Minne, horn - Herman Engels, conductor - Filharmonie Hradec Kralové
PHAEDRA 92096

-------------------------------------
Friday 30 JANUARY 2020
RADIO KLARA
Program : GOLDBERG (00:00 - 06:00)
Lodewijk Mortelmans - Elegie I - In Memoriam - [07:41]
Fernand Terby, conductor - BRTN Filharmonisch Orkest
PHAEDRA 92033

Thursday 30 JANUARY 2020
RADIO KLARA
Program : GOLDBERG (00:00 - 06:00)
Lodewijk Mortelmans - 3. Sirens playing and singing, from Homeric Symphony [11:37]
Martyn Brabbins, conductor - DeFilharmonie
HYPERION 67766

Monday 28 JANUARY 2020
RADIO KLARA
Program : GOLDBERG (00:00 - 07:00)
Lodewijk Mortelmans - Romanza for violine and orchestra [05:32]
Milan Pala, violine - Herman Engels, conductor - Filharmonie Hradec Kralové
PHAEDRA 92096

Saturday 25 JANUARY 2020
RADIO KLARA
Program : KLARA SERVEERT (12:00 - 14:00)
Lodewijk Mortelmans - Saïdjah's Lied [04:59]
Peter Vanhove, piano
PAVANE 7463

Monday 13 JANUARY 2020
RADIO KLARA
Program : GOLDBERG (06:00 - 09:00)
Lodewijk Mortelmans - Oh mocht ik [02:31]
Hendrickje Van Kerckhove, soprano - Christel Kessels, piano
SENZANOME 5411499 92022

RADIO KLARA
Program : GOLDBERG (06:00 - 09:00)
Lodewijk Mortelmans - Varied Menuet for piano [05:18]
Jozef de Beenhouwer, piano
PHAEDRA 92015

Sunday 12 JANUARY 2020
RADIO KLARA
Program : GOLDBERG (00:00 - 07:00)
Lodewijk Mortelmans - Het wielewaalt en leeuwerkt [05:29]
Peter Vanhove, piano
PAVANE ADW 7547

Saturday 11 JANUARY 2020
RADIO KLARA
Program : GOLDBERG (00:00 - 07:00)
Lodewijk Mortelmans - Morgenstemming [12:35]
Martyn Brabbins, conductor - DeFilharmonie
HYPERION 67766