--------------------------------------





Friday 1 MAY till Sunday 10 MAY 2020
Address : Saint Bavo Cathedral, Sint-Baafsplein - 9000 Ghent
Floraliën 2020 - Frans Mortelmans - Jean Robie
Exhibition in the Saint Bavo Cathedral in Ghent

Organisation : Koninklijke Maatschappij voor Landbouw- en Plantkunde van Gent

From 1 May to 10 May 2020, the city of Ghent will be the setting for ten days for the most beautiful creations of
national and international top florists, ornamental growers, garden architects and artists,
complemented by an exhibition on our 'Flower Painters'.


The theme of the Floralies is 'My Paradise, a World Garden'. This refers not only to the emotional role of green in people's lives, but also to the Lamb of God by the Van Eyck brothers. After all, the Floralies are also organizing their 2020 exhibition at the Van Eyck year.

Frans Mortelmans, virtuoos Bloemenschilder

The rose has many meanings, which all have to do with a clean and sinless life. It indicates the beauty, the love and the transience of life.

Already in the 5th century B.C. the Greek lyre poet Anacreon sang:
The rose is the perfume of the Gods
The joy of man
It adorns the grace of blossoming love
It is the favorite flower of Venus




Jean-Baptiste Robie, l'Amant des roses

In order to associate the flower and his presentation, we are working here together with the Sint Dorothea foundation, the Foundation of the Rose, the Mortelmans foundation and the Fondation Jean Robie. Bringing together the actual flower and its painted version will give rise to an art of colour and taste.

Two great painters, the antwerp Frans Mortelmans and Jean Robie from Brussels, specialists in flower painting, are brought together here for the first time.


You will be able to admire a selection of masterpieces by both artists, surrounded by a beautiful floral decor, set up in the ambulatory and the high choir of St Bavo's Cathedral, around the mausoleum of Bishop Antoon Triest (1654).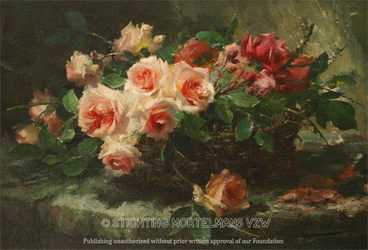 Organisation and collaboration :
- De Gentse Floraliën
- Sint Dorothea (founded in 1648
and co-founder of the Gentse Floraliën)
- Koninklijke Nationale Maatschappij
"De vrienden van de roos"
- Sint-Baafs Kathedraal Gent
- Casteels Rozen Putte
- Tuinbouwschool Melle
- Fondation Jean Robie
- Stichting Mortelmans
- Ecole d'Aquarelle Namuroise



website :
www.gentsefloralien.be - www.floralien2020.be - www.fransmortelmans.be - Fondation Jean Robie.org

Sunday 12 JANUARY 2020
RADIO KLARA
Program : GOLDBERG (00:00 - 07:00)
Lodewijk Mortelmans - Het wielewaalt en leeuwerkt [05:29]
Peter Vanhove, piano
PAVANE ADW 7547

Saturday 11 JANUARY 2020
RADIO KLARA
Program : GOLDBERG (00:00 - 07:00)
Lodewijk Mortelmans - Morgenstemming [12:35]
Martyn Brabbins, conductor - DeFilharmonie
HYPERION 67766