Lodewijk Mortelmans 1868-1952

1921 American Journey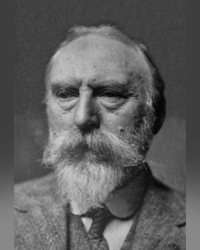 During a successful tour in the United States of America (1920), Lodewijk Mortelmans was invited by Pablo Casals to become the conductor of a well-known Symphonic Orchestra. Some works were edited after agreements with Schirmer in New York and with Composers Musical Corporation.


Lodewijk Mortelmans refused this honourable offer because, in 1917, he had lost his wife Gabriella Mortelmans as well as his youngest and eldest sons, and felt responsible for the upbringing of his five other children.

Family note :
In the year 1921 his wife Gabriella Mortelmans was in her 44th year of life, and died on †03.05.1917.
His youngest son Guido died on †10.01.1917 and his oldest son Frits on †22.07.1917.
The ages of their children were at the beginning of 1921 : Frits 25 - Frieda 24 - Holda 21 - Ivo 19 - Hugo 16 - Livina 9 - Guido 4.




Privat correspondance: - Transl.
Tuesday 30.12.1969, letter of Gabrielle Radoux to Lodewijk De Vocht:
.. in America I met 'The famous Baryton Louis Graveure'.. and asked him if he wasn't interested in some flemish Lieder of one of my friends of Antwerp, whom was a Prix de Rome winner! Coincidental I had some Lieder with me. Louis Graveure was all in all delighted and sang five Mortelmanslieder in the Albert-Hall in New-York, which he translated himself, and who where a huge success and were bissed.
Louis Graveure let me know, he would exert on the very well know editor 'Composers Musical Corporation' to have them published. Not only the five Lieder were published and sold very well, yet the Composers would have liked to publish all the works Mortelmans had, except his orchestral works. I returned to Belgium after my concerttour - because I had an engagement for him, for some singing recitals with Louis Graveure, which he had to assist in person!
Everything was in order - Mortelmans asked a three month's leave at the Conservatory and came to Boston on the Steamer 'The Nerviër' and all went at his best.
In Philadelphia, he met 'Pablo Casals, certainly not unknown to you - he was so delighted, and while the post of conductor for the Boston-Symphonic was vacant, insisted he would apply, and supported by Casals, he certainly would be appointed - yes, very tempting, but, his houshold, five minor children - no mother - was for his conscious... impossible.

1921 Baltimore Harbour
Chesapeake Bay (estuary)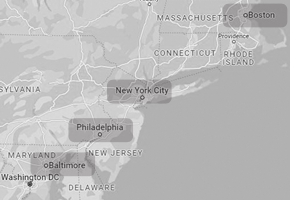 USA East Coast

Voyage 1921
Antwerp
Baltimore
? Philadelphia
Worcester (Boston)
New-York
Cherbourg
Travel Data - Outward Journey
In the night of 29 March 1921, he leaves in a rush on board of the Nerviër from Antwerp, destination Baltimore.
(Shipping Company : Lloyd Royal Belge)

Privat correspondance:
On board of "The Nervier" - 30 March 1921

.. So I suddenly had to leave with the Nervier.
At half past six this morning we pushed off and are now at Terneuzen.
(on the river Schelde)
Due to the help of our pilots I can send you these few words. Captain and officers are
excellent and wouldn't it be so cold here at sea, I would enjoy myself.



Travel Data - Journey in America

From april till may, many different 'scéances' are given for small cercles.
Daisy Jean, gifted with one of the most beautiful natural voices, sang his work.
Lodewijk Mortelmans was to be called 'un grand, un très grand artiste' by the press.
Initially 4 songs and 3 small works for piano were published at Schirmer. Later, Composers Music Corporation would publish more works, such as a bundle of 11 piano works, 9 songs foreseen with dutch and english lyrics, and 27 of his 'Old-Flemish Folksongs' arranged for piano.
(Dr. J.L. Broeckx)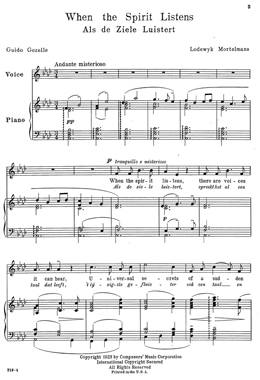 Privat correspondance: - Transl.
New York, 11 mai 1921
.. Here, life goes on. I had thought, once all concerts done, I would leave at first convenience, but it won't be possible because apart of the concerts diffent points of concern remain. Amongst them about the publishing of some of my works. Here at least, some publishers are more interested in me than I have experienced so far in Belgium. Anyway, three Lieder are published here, which is a start, and I thinks more is to come. It is the largest american music publisher who took these Lieder. I met also the excellent american Liedersinger : Louis Graveure. He has strong feelings for my Lieder. He frequently sings some Lieder of mine for which he made the best translation. I played him my arrangement for Volksliederen, which he absolutely admired. He hopes to receive a copy as soon as possible, and promised me, without I had to ask him, he would propagate them. Even more : he instantly wrote - in my presence - to five different editors to inform them about me. As Graveure is known as the main authority, probably some will come forward. By the way, one of the editors (from Boston) wrote me already to meet us once he arrives in New York. I'm not harbouring illusions, but realise already my visit to America has done well. Regarding one another, I might return home later than expected. I have to turn this journey into every possible profit. Now it's business time, once home I can dream again.
Perhaps I should have to travel to California by the end of the month. The belgian consul of Los Angeles wrote us for a concert. We wait now for his terms. If they are profitable, than we'll have to take the train for five times 24 hours. But I fear the large amount of travel and accomodation expenses will jeopardize this oportunity. We're waiting.
..

New-York 18 mai 1921
.. Los Angeles will be nothing, maybe next time.

Travel Data - Return Journey

A place on board of a vessel of Cunard Line was assured for the returntrip, instead of the vessels of the Lloyd Royal Belge, because the crossing of these vessels was unsafe due to conflicts.
On the 9 june 1921 Misses Gabrielle Radoux, Daisy Jean and himself sailed of for Cherbourg aboard the RMS Saxonia on a ten days journey. Than they would travel home by train. In his correspondance he expected to be home in the Helenalei around the 23st.

1922 - Lodewijk Mortelmans & Gabrielle Radoux
Timeline
based on his privat correspondance :
29.03.1921
Departure of Antwerp during the night
30.03.1921
on board of the S.S.Nerviër on the river Schelde at Terneuzen
20.04.1921
steaming up the river Chesapeake to Baltimore
21.04.1921
Baltimore
? Philadelphia
30.12.1969, brief van Gabrielle Radoux aan Lodewijk De Vocht
01.05.1921
Worcester (Massasuchettes) (ca. 75km west of Bosten)
11.05.1921
New York - writes about editors of his works
18.05.1921
New York - writes they'll cross the ocean on 09.06.1921 to Cherbourg
30.05.1921
New York - writes .. I handed several Lieder and piano compositions over to a great editor and received good conditions.. (on Hudson River paper)
05.06.1921
New York - Metropolitan Theatre : assists to Lohengrin & Aida
09.06.1921
New York - 12:00 - departure on board of RMS Saxonia
17.06.1921
Post Card - on board of the Saxonia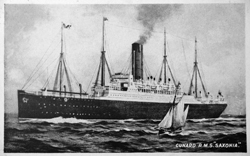 Privat correspondance: - Transl.
Saxonia, 13 june 1921
.. We left last thursday june 9th at noon from New York. The crossing will lead us to Plymouth and Cherbourg. There we will disembark and continue to Paris and later Antwerp, I mean Miss Radoux and myself, wile Daisy Jean will remain some days in 'La Ville Lumière' with her sister.
Till sunday (12 june) we had magnificent weather, the ocean was like a vast fishing pool. Today it's more windy and there are white horses on the sea, but it's still good weather. By the way, we are on a good vessel. Steady as a rock, and without the vibrations of propeller or engine you would imagine yourself on the beach. The Saxonia is a vessel of more than 14000 tons with a staff of over 320 men and .. a rat.
We are about 500 passengers aboard. The ship runs at 14 miles an hour and sometimes even more. Maybe not the fastest of the modern ones, but we can't complain, and it exceeds 'The Nerviër' insofar this one could be called a crawler. Also the Saxonia is still one of the elegant ships, who's shape still apply as a reference model.
Live on board is quiet and steady. At 7 o'clock in the morning a steward runs around with a tamtam to call all passengers for breakfast. At noon and in the evening it's a trompet who calls us for diner. Upon return I'll show you the menu cards which proove we're not starving. Service is excellent. Wheather the expectation for a good tip has something to do with this, I can't tell. In any way, it's pleasant to be treated with courtesy.
Most of the cabins host four persons. Me too have to share mine with three other gentlement: an englishman and two americans. Silence has become regular won't surprise you. My vocabulary is limited to: good morning, good evening or very fine weather to day. But what is expected! In six, seven weeks one does not learn a language, certainly not, when it is english of a lesser quality. No way to accept when 'yêe' stands for 'yes' and 'this waâi' for 'this way'!
.. Can't forget to mention : the Saxonia is a scrupulously clean ship where you're not visited by small animals which normally accompagny the people.


Tuesday 14 june 1921
... Yesterday turned cloudy, rainy and windy. Today we have strong winds and rough sea. Dispite all, Saxonia runs very steady. Our course is more south as regularly passengerships sail, due to icebergs noticed on the usual course. Two days before departure, an english steamer hit one. So preferably a small detour and some delay than going down the drain.


Thursday 16 june 1921
... Yesterday was one of the most beautiful days we've spent at sea. Air and water all as pearl. In the afternoon we were cheered up by a school, as it is called, of dolphins. They came along the vessel and tumbled as it was a spectacle of joy. This morning was similar. These intermezzos are pleasant. I forgot to say we enjoy music at the table. Three musicians and a pianist, a cellist and a violonist play at their best. It's possible their play improves the digestion for some of us, but to me it leaves me more with an indigestion. Pianist and cellist are still capable of something, but the violonist is simply awful. He never plays right and his tone is like vinaiger. As the melody or the tune often come in favor of his play, you easily can imagine what a delight it is for musical ears. Unfortunately I sit on the first table, just aside of this vinaiger brewer and my eardrum is therefor tortured during dinner time. Probably this must be a brave boy who needs every pound he can earn, so there's no way one can hate or curse him. Okay, I pity him, but his victims even more.

Saxonia, 17 june 1921

In the twenty four hours we had two events taking place on bord. A child was born, and a woman died suddenly. This morning at 6 a.m. the funeral took place. The capitan read some prayers, the machine held quiet for some moment and.. then we went on. And thus each of us went towards our destination.


The Two Vessels
S.S. Nerviër (Screw Steamer) : ex- war aryan (war class tankers)
1919 reprise of Shipping Controller (Londres)
rebaptised NERVIER by the Lloyd Royal Belge S.A. Antwerp
transformed in a 'dry cargo ship'

RMS Saxonia (Royal Mail Steamer) was one of the passengervessels of the britisch company Cunard Line. Prowered by four steammachines and driven by two propellers, this was a vessel of 180m long, with a weigth over 14000 tons and reaching a speed of about 15 knots.
On 22 mai 1900 he left for his maidentrip from Liverpool to Boston.
The RMS Saxonia sailed the North-Atlantic route till 1911. In that year his capacity was altered by keeping only second and third class. His new route went from Trieste to Boston.
In august 1914 it was used as a prison, and was moored on the river Thames in London during the First World War. After november 1918 he returned to sea and went sailing between Liverpool and New York.
In 1920 his capacity was reduced from 1964 till 1449 passengers (471 in cabin class and 978 in third class). After this second change he returned to the Atlantic Ocean and travelled now between Londen and New York City till 1925. As from then, the RMS Saxonia was sold and broken down in the Netherlands.

Daisy Jean
Extract of the newspaper 'Watertown Daily Times of 08 august 1931':
Daisy Jean (violoncellist and soprano) born in Le Havre in France, of french and scottisch parents. She grew up in Belgium and was considered as from belgian nationality.
Although herself and her four sisters did not had any musical education, it is exceptional all four became profesional musicians.
At the age of four, Daisy was already singing quartets with her sisters, and rapidly developped interest for the Cello. When nine years old, she performed for her first time before an audience with remarquable succes. She was wellknown by the mayor belgian orchestras. She performed several times in Oostende, aswell in Antwerp for the New Concerts conducted by Saint-Saens, Lodewijk Mortelmans and Hans Richter.

But when second world war started, she fled accompanied by her family into England, where she was to join privat cercles to play at Queens Hall and at Albert Hall conducted by Beechem. Pushed by the belgian ambassador in London, Daisy Jean left together with Gabrielle Radoux (piano) and Jean Wiswell (piano) and travelled for four years through Canada and the United States of America. They played a lot of concerts for the Belgian Relief. In 1919 Daisy Jean returned to Belgium.




Published: Wednesday, March 01, 1916
CONCERT FOR BELGIANS TONIGHT - Elaborate Program will be Rendered in New Music Building
Under the auspices of the Division of Music, a concert for the benefit of the Belgian Relief Fund will be given in the John Knowles Paine Concert Hall this evening at 8.15 o'clock.
The program will be presented by Mlle. Octavia Belloy, soprano - M. Jan Collignon, bass, of the Antwerp Opera House - Mlle. Daisy Jean, 'cellist, Brussels Royal Conservatoire - Mlle. Gabrielle Radoux, pianist, Royal Antwerp Conservatoire - Mr. Willis Flanagan, tenor Italian Opera
'The program': o.a.
Mlle. Radoux Pairie, Paladilhe - Mlle. Jean "Bloemen en Sterren", L. Mortelmans

(image of Daisy Jean - she changed her name into Margot Jean to avoid negative interpretation)
©www.thecrimson.com