2009 SEPTEMBER

Frans Mortelmans, Virtuoos bloemenschilder

Book of Art, richly illustrated work of reference, released on September 24th 2009.
This book, 192 pages thick, contains a reasoned catalogue of 720 works.

Authors : Norbert Hostyn, Ivo Schiltz, Dirk Schiltz
Standaard Uitgeverij, Antwerpen, 2009
ISBN 978 90 02 23529 0

This monography is a new publication of the hand of Norbert Hostyn, ex-Curator Stedelijk Museum Oostende, and of James Ensor studycenter.

Written in Dutch, content :
• Summary about the painting art in Antwerpen
• Biography of Frans Mortelmans and Lodewijk Mortelmans
• Reasoned catalogue
• Reproduction of each of the 720 known works
• French, English and German Summary
• Sales price excl. shipment : 50,00 EURO

This Book of Art remains only available through our association.

Presentation of this exceptional evening at Campo & Campo Berchem :
'Use the links below for more info'

We thank Standaard Uitgeverij for their input, without whom this edition wouldn't be realised.


2002 OCTOBER

Catalogue : FRANS MORTELMANS 1865-1936

Edition : "Stichting Lodewijk Mortelmans VZW" - 2002 - Antwerpen
Commemoration of 50th anniversary of the death of Lodewijk Mortelmans
Written by Em. Prof. Dr. Guido Persoons, Emeritus Professor, Musicology, Catholic University of Leuven, President of the Royal Association for encouragement of Fine Arts, Antwerp. A first attempt to study the work of Frans Mortelmans was the organisation in october 2002 of an exposition with a limited collection of his works at the Royal Museum of Fine Arts.

54 pages containing full color pictures
ISBN 90-807425-1-1

Content :
• Preface by Dr. Paul Huvenne, General Director of the Royal Museum of Fine Arts, Antwerp
• Introduced by Norbert Hostyn, Curator of the Museum of Fine Arts, Ostend
• A Synthese 'De Vlaamse toondichter Lodewijk Mortelmans' (Trad. The Flemisch composer Lodewijk Mortelmans) by Jan De Wilde, Coordinator Study Centre of Flemisch Music
• Themes : perspective, waterpainting, drawing formations at the Academy in Berchem and at the Royal Academy for Fine Arts in Antwerp, artistic cercles, De Scalden, ...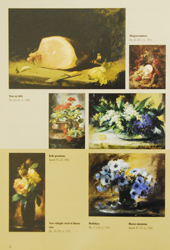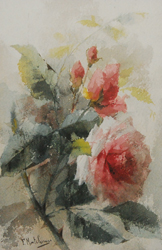 1995 OCTOBER
DICTIONAIRE DE PEINTRES DE FLEURS (Dictionary of Flowerpainters)
Flowerpainters born between 1750 and 1880
Editor : Berko - 1995
1994 : from 29 OCTOBER 1994 till 29 JANUARY 1995
Place : Museum of Fine Arts Ostend
EXPOSITION - BELGISCHE STILLEVEN- & BLOEMENSCHILDERKUNST 1750-1914 (Still life & Flower Paintings)
from neo-classicism till post-impressionism
Catalog by Norbert Hostyn, curator

Cover illustration : Frans Mortelmans, 'Stilleven met vliegenzwammen en herfstbladeren'

Written in dutch
1939 OCTOBER
CLARTE - Magazine with pacific-humanitary tendancy
Director: M. Herman Dons - Brussels
Magazine number of october 1939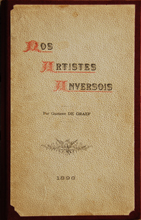 1898
NOS ARTISTES ANVERSOIS

Biographical Notes (Notices Biographiques) - by Gustave De Graef

Book edited by Theunis in Antwerp - 1898


This biographical book was written with the help of the Antwerp artists by the end of the 19th century.
Many of the described artists are mentionned as members of the artistic circle 'Cercle Artistique d'Anvers'.


Written in french